As a symbol of home appliances, "inverter" technology has gradually occupied most of the consumer market, and the electric motors used in home appliances are transitioning from induction motors to brushless motors and their controllers, in order to achieve the requirements of energy-saving and environmental protection, low noise intelligence and high comfort. The development direction of a brushless motor is the same as that of power electronics, sensors, control theory, and other technologies, it is the product of a combination of various technologies, and its development depends on the innovation and progress of each technology related to it.
With the rapid development of science and technology and the continuous improvement of people's living standards, traditional home appliances can no longer meet people's requirements for a high quality of life, intelligent, energy-efficient, and comfortable DC brushless motor inverter home appliances have been popularized on a large scale in the family.
At present, the inverter household appliances represented by inverter air conditioners, inverter refrigerators, and inverter washing machines have gradually entered the consumer market in China. And inverter household appliances are being changed from "AC inverter" to the commonly known "DC inverter", which is an obvious development trend. This transformation is actually inverter home appliances with inverter air conditioner compressor, inverter refrigerator compressor, air conditioner with indoor and outdoor fans, air fresh ventilation fan, inverter washing machine motor used in the past is a single-phase induction motor, has been replaced by DC brushless motor and its controller. This change from "AC inverter" to "DC inverter" makes the inverter household appliances have new improvements in energy saving, high efficiency, low noise, comfort, intelligence, etc.
Brushless motors are widely used in household appliances, model toys, industrial equipment, etc. Now, let's briefly talk about the wide range of applications in the household appliance market.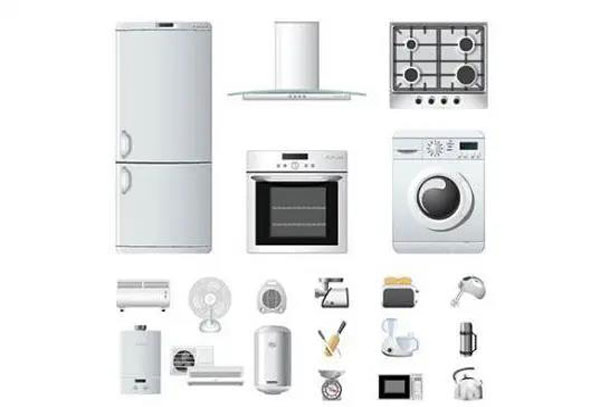 Electric shaver
An electric razor is a cosmetic appliance that uses electricity to drive the blade to shave the beard and sideburns and was introduced in the United States in 1930. Electric shaver according to the blade action is divided into rotary and reciprocating type two categories. Rotary razor structure is simple, less noise, moderate shaving force. Reciprocating razor structure complex, noisy, but shaving strength, high sharpness. Rotary electric razors according to the shape structure can be divided into straight, elbow types, electric push shear types, and double-headed types.

Electric hair dryer
Electric hair dryer is mainly used for hair drying and shaping but is also available for laboratory, physical therapy room, industrial production, beauty, and other aspects for local drying, heating, and physical therapy. The type of motor used can be divided into AC series-excited, AC shaded-pole type, and DC permanent magnet type. The advantage of a series-excited hair dryer is that it has high starting torque and high speed, which is suitable for manufacturing a high-power hair dryer. The advantages of shaded-pole type blowers are low noise, long life, and no interference with telecommunications equipment. The disadvantages are low rotational speed, poor starting performance, and high weight.


Kitchen appliances
The modern kitchen is everywhere electrical equipment, now in the process of using household appliances brushless DC motor is more satisfactory, especially in the process of using kitchen appliances can use the help of household appliances brushless DC motor will seem a little better, in the process of using kitchen appliances is more considerable, but also more useful, such as in the use of mixers, juicers, coffee machines, milk tea machines, electric Knives, egg beaters, rice cookers, food processors, grain grinders, vertical mixers, meat grinders, electric cutting knives, and other appliances can be used when using household appliances brushless DC motor.

Intelligent home
Home intelligence, gradually become the trend of the times. In the process of using residential equipment, it is also possible to use it household appliances DC brushless motor, such as in the use of exhaust fans, or electric heaters are more certain that the general intelligent home equipment is better, at least in terms of quality is able to provide protection. In addition, there are circulating fans, humidifiers, dehumidifiers, air fresheners, coolers, heaters, soap dispensers, hand dryers, smart door locks, electric doors, windows, curtains, etc.
Essential parts and objects of home cleaning and hygiene are the floors, all kinds of floor care electric products are increasingly available, there are carpet cleaning machines, electric vacuum cleaners, handheld vacuum cleaners, floor sanders, etc., they can also be applied brushless DC motor.